Find more photos like this on QUEEN SHEBAH III ARC OF NUBIA
International Peace Youth Group, IPYG, displays Human Banner of Peace and ONENESS
Queen Shebah III, The African Kingdoms Federation and Federation of the South Global Humanitarian Leader, along with over 200,000 others, attended The Seoul, South Korea World Alliance of Religion Peace Summit. This September 17-19th, 2014 Peaceful, War Eliminating Alliance attracted thousands of locals, 50 present and fomer hHeads-Of-State, over 700 Religious Heads of various religious and non-religious high-profile dignitaries, many academia and much international Royalty to this glorious manifestation of the Oneness Of The World, in call for World Peace.
Speaking of Royalty, Her Imperial Majesty had the extreme pleasure of celebrating Her birthday, on September 19th, at the Summit along with the World.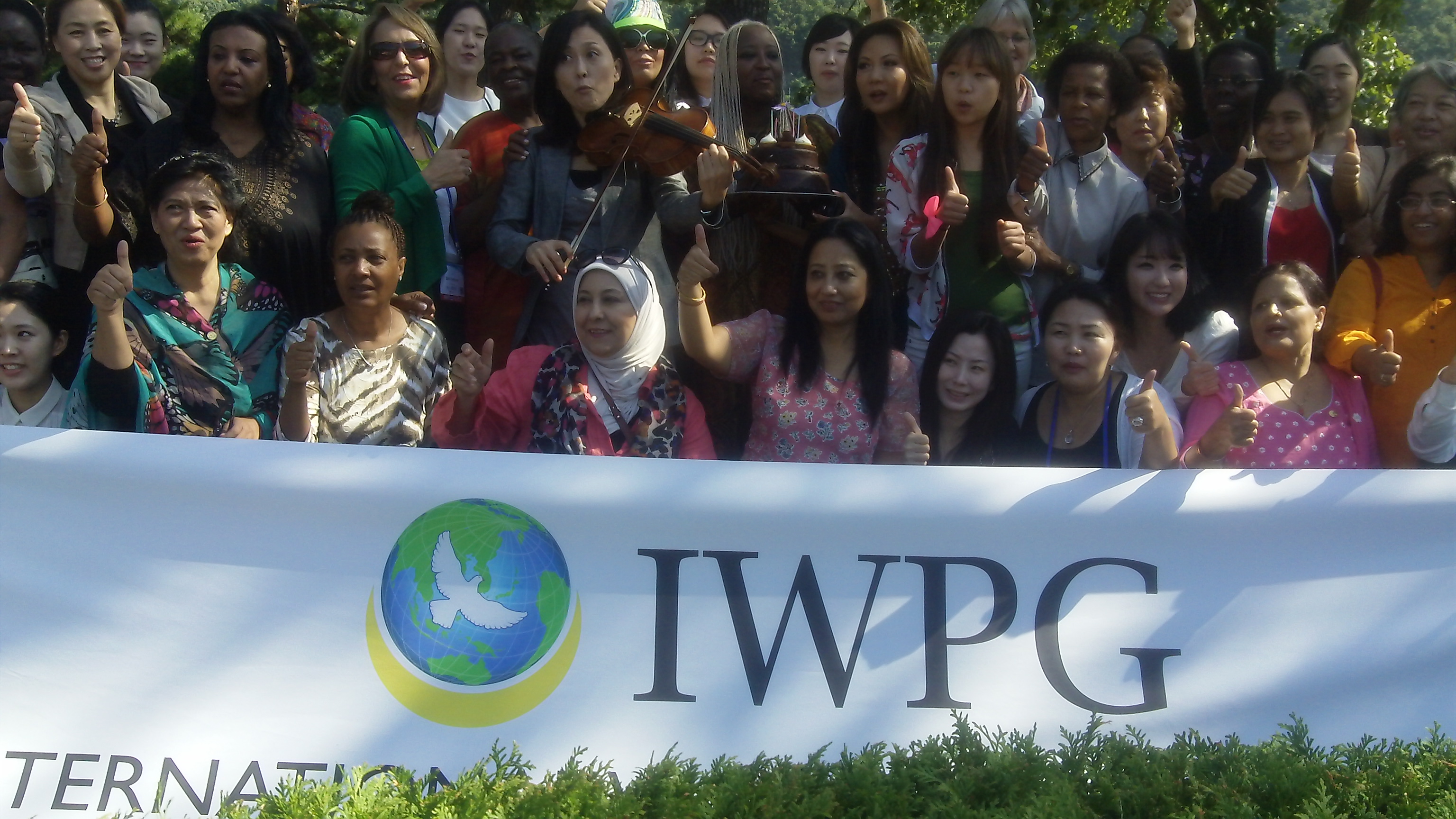 H.I.M Empress Shebah III holding Birthday cake, during singing of IWPG Women and violin played by IWPG repr. HRH Ka JeoneAe Helen Lee of K-TDI, one of the major summit sponsors, whose chain of international Companies and institutes sponsored and hosted the Delegation of over 200 international Women Leaders and escorts from travel to departure back home, during stay in Korea to attended the Summit.
The 51 years young Queen of Sheba was serenaded with Happy Birthday renditions in a multitude of languages from the South Korean nation to the Hawaiian Islands and all in between. Who could have had a happier day?
AKF-FOS-WVAKF Empress Queen Shebah III and H. E Kgalema Motlanthe, fmr. President of South Africa
Her Majesty's "One In Light", 257-nation, poverty eliminating program and the Project VII Phoenix (PVIIP) African Infrastructure Development process, greatly coincides with this extraordinary collaborative event produced by The Heavenly Culture, World Peace and Restoration of Light (HWPL), The International Women Peace Group(IWPG) and the International Youth Peace Group(IYPG) organizations. All encourage Oneness, Unity, and Love while discouraging divisiveness and war. South Korea's sponsorship and hosting of this Great and Grand Global event has surpassed previous events of its kind in outreach and magnitude, capturing the multicultural world's attention. All speeches from religious and non-secular, at the event, focused on the horrors of war, such as poverty and prejudice, and the challenges faced in their elimination.
Breath-taking fireworks and ever-changing colorful dance ensembles dazzled the crowd in the opening ceremonies. WORLD PEACE, Summit, September 17, 2014
While The African Kingdom Federation leader, Queen Shebah Sai 'Ra, often reminds Us that Nubia is the world's Cradle of civilization, The WWPL message of Unity, Peace and Love greatly acknowledged that we all have much more in common than in difference. The Queen of Sheba often quips, "When it rains, we all get wet, and when the sun shines, we all feel the heating rays of the sun, for we are all One In Light." Although Her Imperial Majesty traveled the 30 something odd hours to be a part of this Heavenly Culture and World Peace Restoration of Light global event, the Empress' journey was not over since the 110 Tribal nations of the Philippines was also on this Empress' Poverty Eradicating agenda.
Showing Love in Korea ....H.I.M Empress Shebah III AKF Head, HRH Ka JeongAe Lee AKF-Asia President, AKF -Asia Directorate Women Leaders and Executives of AKF/K-TDI concerns of the mega-Confederation of Federations ''Queendom Of South Kingdoms Confederation'' Four Queens Cabinet.
After the three-day Peace Summit, H.I.M Empress Shebah 'Ra, went on to visit the Philippines in support of One In Light expansions in that nation. There, Her Majesty joined Princess Maria Amor Torres (CEO-WCH/co-partner EPA) who traveled to Philippines a few days earlier and her EPA co-partner Lady Joy Heartwell, pre- launching their Empower Pinoy Academy (EPA) program which educates and empowers while creating financial freedom and independence. EPA facilitated the trio's visit throughout the island nation. The three paid an extra special visit to the Federation of South - Arc of Nubia Chapter leadership and Tribal Nations Heads Chieftain Agnes Nieva Escudero and HH Governor Higyawan Na Holag-Ayan. Chieftain Agnes and Her Majesty have worked for several years on an identification and elimination of poverty program of the indigenous tribal Nations of the Philippines, and to duplicate the process in the rest of Asia.
On September 29th 2014, Her Imperial Majesty Empress Shebah 'Ra was received with great honors by the Tribal leaders in Valencia, Bukidnon Philippines. In the highly esteemed rites of the Indigenous lines, guided by Ancestral high Spirits, the Imperial Matriarch was named by the Indigenous Nations. Led by ancestral calls, in a ceremony before Her Majesty's arrival, She was given, according to the elders, the most powerful name of recognition in the spiritual world, the divine 'Bae Nanganlag'' meaning Woman Spirit Of the Sun.
Welcome and Traditional Ceremonial Blessings of The Ancestors
A Press Conference was successfully initiated by HRH Agnes Nieva Escudero and HH Gov. Higyawan Na Holag-Ayan in honor of the great royal visit of Her Majesty.
As well as the Press Conference, a courtesy call was also formally placed to the Hon. Mayor Sunny Huervas of Valencia City to inform him and the City Council of the African Kingdoms Federation "One in Light" Program. As stated by Her Majesty in an earlier Manila interview. ''Poverty is not a crime; it is an economic situation that no nations host a border to."
City Councilors Office, Valencia City, Bukidnon, Philippines.
Speech at the Haribol Fiesta Pilipinas
The African Kingdoms Federation's program aim, along with the Dual Federation of the South and Indigenous Nations, is to address the Humanitarian crisis within the Tribal Nations along with the Regions of Africa in the devastating throes of the Ebola Crisis as one Unified Effort. Empress Shebah Sai 'Ra III has as of today shipped over 2 tons of Personal Protective Equipment including 20,000 Medical Gloves and Masks. These supplies are on their way to the Ghana Arc Chapter who will then forward to Sierra Leone, Guinea and Liberia. This is a part of the Federation support efforts of the ''One In Light'' Program to assist Hospitals in the reserving of supplies in the crisis Regions.
Federation Arc Council of Queens, Kings Cabinet, Crown Orders, and Arc Community: on the 'One In Light'' 257 AKF Humanitarian Agenda.
The participation of the AKF-FOS at World Peace Summit along with the Humanitarian agenda of the International Women Leadership teams from within Middle-East to Turkey is a South World Regions step by step, massive Grass-root oriented Global Effort. This world team is led by the dual Federation Head, the Nubia-Sheba Nations Imperial Matriarch, Throne Royals of Asia, Indigenous Leaders, Tribal Nation of the Philippines, Arc 257 Nations Leadership, Nubian Kingdoms Kasambu'Ra Thrones & Imperial -Royal Houses East & West Africa, Ga Nation Asere Kpakpatsewe Supreme Council of Throne, Ropad and Pinango & Abron Throne Royals of Federation Arc Of Nubia.
Indeed, The World is One!
Empress receives Blessings from Her Highness Agnes Nieva Escudero of Tribal Nation Government of the Philippines.....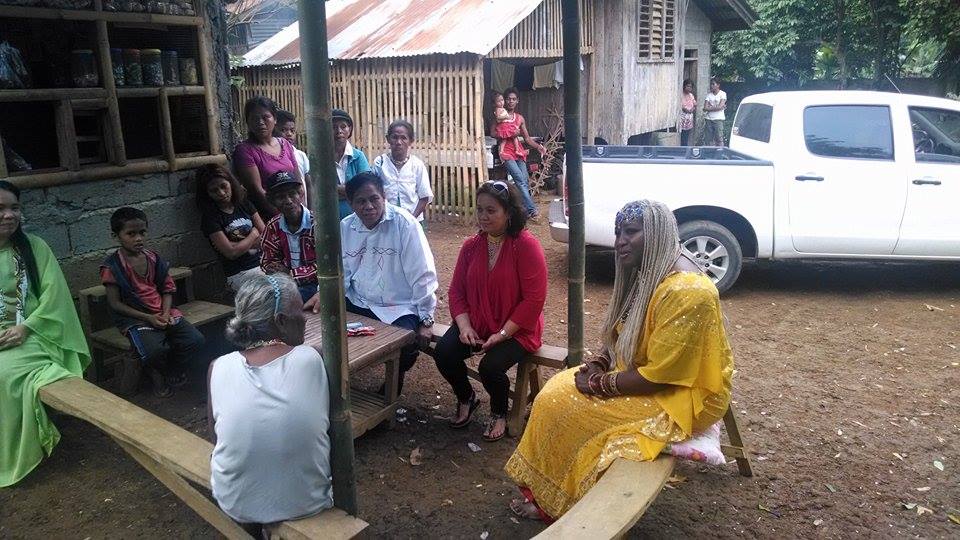 The Nubian Nations Nubia-Sheba Queendom lines Sovereign Imperial Matriarch, Our Empress Shebah III the AKF dual FOS-Federation Of South /Kingdoms & Indigenous Nations Head (F-R) and HRH Chieftain Agnes (F-L), during visit to the FOS Indigenous Nations Tribal lines in the Philippines.
Blessings from Her Highness Agnes Nieva Escudero: "The marvelous, the Majestic and the ever Wonderful Empress Sheba Ra. Congratulations and Good luck to your journey ahead. I bow, I salute and I gratify.

The visit of Her Imperial Majesty Empress Sheba Ra - Queen Sheba III is a treasured moment by my family and the Tribal Nations. Empress Sheba touched the heart and soul of the Filipino community in Bukidnon. My gratitude for the time and effort that she exerted. As she leaves the Philippines tomorrow let us all pray for her safe travel and may she continue to receive the blessings she deserves as she continually help and do the tasks bestowed unto her by the Great Creator.
.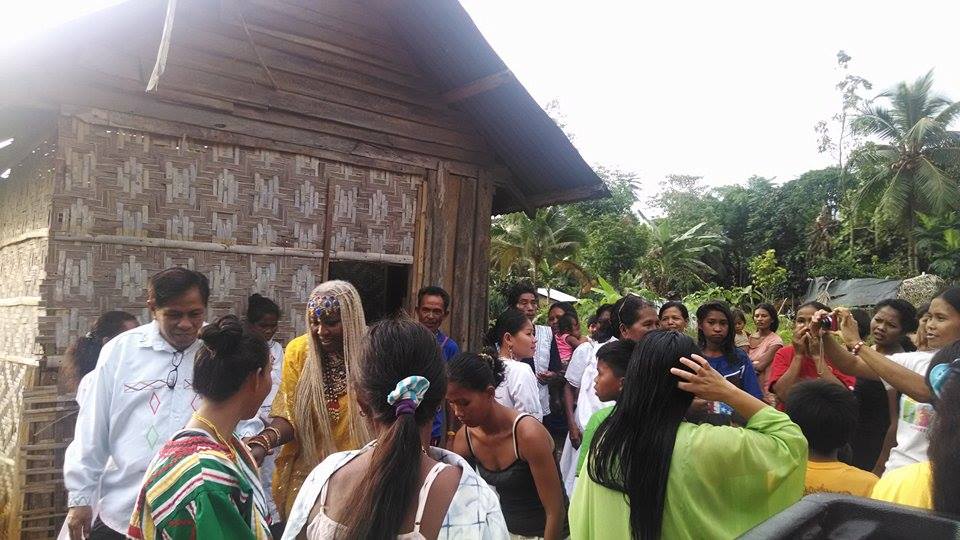 Her gargantuan tasks is nothing compared to her will do the what is right and what is good. The Mother Nature in her drives her to do it. To my Sister Highness Princess Maria Amor, my gratitude is beyond compare. Words cannot express the joy you bring to me, to my family and the Indigenous Peoples.
As African and Asian Indigenous peoples unite to make possible means to eradicate poverty we cannot but rely our next step to the Greater and Powerful Creator above for all the things we do is for His Greater Glory
Till then my precious Empress Sheba Ra hugs and kisses.
ONE IN LIGHT!
Love you all, Miss you so much... ONE IN LIGHT AND MABUHAY!"
Her Highness Agnes Nieva Escudero
AKF-FOS-WVAKF Head H.I.M Empress Shebah III and FOS Vicereine Her Highness Chieftain Agnes Nieva Escudero, Wife of the Governor-General (Head) of The Tribal Nations Government Of the Philippines.
Article:
By: Chieftain Lois Womack
Arc Crown Media Secretariat
Arc Of Nubia